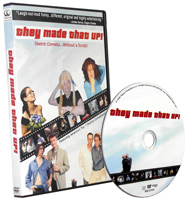 Add the hilarious They Made That Up! to your DVD collection of comedy movies.
Each DVD includes:
Only $12.95! Click below to place your order. Credit cards and PayPal accepted. Completely secure payment processing. We neither see nor store your credit card information.
This offer is for US buyers only. For international buyers, please send us an email at info@TheyMadeThatUp.com to inquire about They Made That Up! DVDs in PAL and alternate NTSC region formats.